ASPHALT Paving Contractors for Dallas & Houston Parking Lots
ASPHALT IS THE SUSTAINABLE MATERIAL FOR CONSTRUCTING PAVEMENTS:
Reuse/Recycle Asphalt
Performance & Noise Reduction
Water Quality Improvements
Traffic Relief -the speed of construction can be performed during off-peak hours allowing planners to fix congestion quickly
Public Safety - smooth asphalt roads allow superior contact with roads improving safety and reducing crashes and fatalities
Pavement Services Corporation is an asphalt paving contractor serving the Dallas and Houston area. We are proud to have had the opportunity to perform asphalt parking lot renovations at multiple Walmart locations across the state of Texas, retail shopping strip malls, apartment complexes, commercial office buildings, and warehouses.  We are here to exceed your as the best commercial paving contractor  to provide asphalt paving services in Houston, Dallas, Fort Worth & surrounding areas. 
BENEFITS OF ASPHALT Paving INCLUDE:
Cost Effectiveness
Sustainability
Durability
The simplicity of construction and repair
Asphalt pavement continues to be the surface of choice for businesses across the country and in the Dallas/Fort Worth/Houston markets. The long term, cost-effective way to build roads and parking lots are with flexible asphalt pavement.  Maintenance costs are minimized with the option of re-surfacing the pavement in lieu of remove and replace.
Pavement Services Corporation Laying Asphalt
PSC USES RECYCLED MATERIALS FOR ASPHALT PAVING IN HOUSTON & DALLAS-FORT WORTH AREA
The asphalt paving industry reuses and recycles it's materials, making the sector the number one recycled material in America.  Reclaimed Asphalt Pavement (RAP) can be incorporated into new pavement, reactivating the RAP becoming part of the glue that holds the new asphalt together.  In addition to RAP, recycling materials from other industries such as used tires, roofing shingles, glass, and many others, create high-quality, recyclable asphalt pavement material.
Porous asphalt pavement is made so that water can drain through the pavement, creating storm-water management systems that are ideal to site planners and public-works departments.  This choice of asphalt leads to improvement in water quality, and in many instances, eliminates the need for detention basins.  Porous asphalt also offers a cooler pavement option.
To avoid asphalt repairs, Creating a management plan for your asphalt pavement is an important process to maximize the durability and longevity of your parking lots or roads.  Seal coating and Crack & sealing and other preventative maintenance are critical to avoid costly parking lot repairs.  Pavement Services is dedicated to providing you with the knowledge and expertise to maximize the durability and life span of your asphalt pavement.
Our Top Asphalt Paving Services in Houston & Dallas-Fort Worth Include:
Asphalt Paving
Asphalt Overlay
Asphalt Repair
Sealcoating
Striping
Emergency Asphalt Repairs
PSC Before and After Asphalt paving Services 
Award Winning Asphalt & Concrete Paving Services
Dallas-Fort Worth And Houston Texas and Beyond
Pavement Services proudly provides multiple service options for concrete repair and replacement. Sidewalk reconstruction or repair along with curb maintenance is within our scope of expertise. No job is too big or too small. Contact Us today to help determine the best concrete paving solution for your business!
OTher PAving Services IncludE:
HOME of The ORANGE CONE MAN!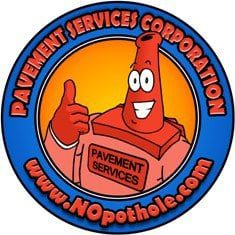 "THE PURE-HEARTED PROTECTOR OF PEOPLE WITH PAVEMENT PROBLEMS!"